OCTOBER

is
PARENTAL INVOLVEMENT
MONTH
WATCH FOR INFO COMING HOME
FOR UPCOMING EVENTS
We are also looking forward to completing various acts of kindness in October as we implement National Bullying Prevention Month. Towards the end of the month, we will celebrate
Red Ribbon Week.
Red Ribbon Week Dress Up days include:
Monday 10/24 "Give Drugs the Boots" Wear your favorite boots
Tuesday 10/25 "Say Goodnight to Drugs" Wear your favorite pajamas
Wednesday 10/26 "Oh the Places we'll go-Drug Free" Wear your future career clothes
Thursday 10/27 "Get Wild about being healthy" Wear your favorite camouflage
Friday 10/28 "Team up Against Drugs" Wear your favorite CCHS Indians shirt/jersey
ALABAMA COURSE OF STUDY STANDARDS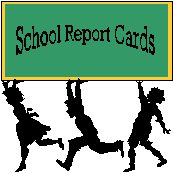 October 19
January 8
March 17
May 27
ATTENDANCE:
Parents, please make sure that students bring a note to school within 3 days after being absent from school. They will need either a parent or a doctor's note addressed to your child's teacher including dates and the child's name.